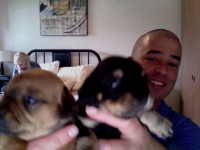 Josef Miyasato
Just before graduating from Boise State University in Dec. 2011 I was awarded the President's Writing Award. That year I was also published in The Prick of the Spindle. This magazine honored me twice by not only publishing my first short story but by also nominating it for the Pushcart Prize.
I have a background and publication history to include poetry, essays, talks, public speaking, short story, blogging, copy editing, proofreading, fact checking, journalism, copy and CE/SEO work.
Since graduating I have worked as a freelance writer. I have published over 780 online ads in 10 months. And when I was hired to take over the Do-It-Yourself blog for a home warranty company I raised their readership response by over 300%.
I am currently at work on my first novel. Feel free to contact me.
LinkedIn @ http://www.linkedin.com/profile/view?id=184301632&trk=tab_pro
Expertise Advertising Copy, Story, Essay, Talks, Public Speaking, Chapbook Design, Editing, Proofreading, Inspiration, Creative Work, Meeting Deadlines, and I'm always learning more.I am best at being backed into a corner and writing out of it; and I'm not speaking of procrastination. I find that with assignments my creativity has only flourished. This works very well in advertising. When I'm staring at deadlines and I have a product that I'm not too sure about or a business that is kind of tight lipped I always know that I can write half nude, standing in a blizzard and the content will come out looking no worse for wear and always better for the struggle.
Skills Writing, Editing, Proofreading, CE/SEO, Copywriting, Guerilla Marketing, Chapbook Design,Teaching, Training, Essay Writing, Microsoft Office Suite, Word, Excel, PowerPoint, Adobe, WordPress, Blogging, Paint, Advertising, Facebook, Social Media, Windows 7, Building Landing Page Content, HubPages, LearningRX, Research, Public Speaking and Writing Talks.
Location Midvale, UT